School breaks can be super-fun for you and the kids, but they're not exactly thrifty! If you find yourself struggling to keep the little'uns – and the big'uns – entertained, fear not! Our pal Abby King from Latest Free Stuff has got you covered with some great activity ideas, whatever the season…
The school holidays certainly have a way of sneaking up on you. 
Entertaining kids in the school holidays needn't be expensive, extravagant or difficult. There are plenty of activities for your kids to enjoy that won't cost a penny nor require much travelling either. They're ideal for all the family to enjoy, whatever the weather and no matter budget you're working with.
1. Arts and crafts
Armed with plenty of materials and creativity, crafting can really be a fun way to spend an afternoon. It doesn't have to cost anything either, if you keep recyclable materials like old toilet paper rolls, newspapers, cereal boxes and milk cartons aside for crafting. Add some imagination, sticky tape and glitter and they could become space rockets, animals, plant pots… the possibilities are endless.
Not only does arts and crafts count as thrifty entertainment, it's also good for your wellbeing. According to the Mental Health Foundation, indulging your creative side keeps your brain active and promotes healthy development and communication skills. We could all do with expressing ourselves a bit better these days!
Have a quick search online for free wallpaper samples or printables ready to colour in too. You can then display the kids' masterpieces in their bedrooms or give them as gifts to family and friends. For example, if you're reading this near the festive season, Pinterest is packed full of crafty Christmas decoration ideas!
2. Get creative in the kitchen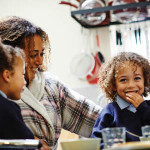 Bring this creativity into the kitchen and get your kids involved with baking and decorating. Make some basic pizza bases or fairy cakes from your everyday store cupboard ingredients (or buy ready-made if your budget allows), then decorate them with any leftovers or supplies you've got in your kitchen.
Kids love experimenting with cooking and enjoy the independence of decorating food their way, even if you're winging it with your basic kitchen skills! (Just make sure everyone pitches in with the washing up.)
While you're in the kitchen, make use of these clever kitchen hacks which can save you time and money. Teach the kids some kitchen essentials early with these 12 super simple staple recipes from Jenny.
3. Take in some local culture
Venture outdoors and discover a whole new side to your local area with a visit to your nearest museum, art gallery or library. TripAdvisor has a handy list of UK National Museums, which are government-funded and free to enter.
Don't despair if there's not a national museum or gallery local to you; some regional museums offer free entry, or may run 'admission free' exhibitions from time to time.
Many libraries hold reading challenges for kids in school holidays, which are ideal for keeping avid readers content. Libraries are also known for running other events for kids, such as arts and crafts and writing workshops. Check in with your local library to find out what they've got planned.
4. Go to the shops
Going to the high street or local retail park with kids can sometimes mean spending a lot more than you were intending to! However, it is possible to visit the shops, entertain the kids and not spend a penny, as just like your local library, many shops and shopping centres are running workshops for kids during the holidays.
Check your local shopping centre website to see what's going on near you. In the past, shops like Pets at Home, Halfords and Hobbycraft have held popular free workshops on pet care, bike safety and crafting respectively. They usually run for an hour or so and kids often come away with a few goodies, too. More importantly, you haven't had to spend a thing!
Tech and toy manufacturers also often hold free demos of their products, especially in the run up to Christmas.
PlayStation recently ran a UK-wide whistle-stop tour to promote their new VR console, for example. Set up an email address that you use for promotions and marketing emails only, then sign up to tech and toy manufacturer company newsletters. That way you'll be the first to know if something free and exciting's on the horizon. (Just make sure you know how to deal with pester power!)
5. Anyone for tennis?
The school holidays can bring out a real lazy streak in your kids. Instead of letting them loll about the place with their phones and tablets, why not get them into a new sport or physical activity?
There are a host of brilliant initiatives that provide free introductory lessons for various sports. For tennis, check out the Tennis for Free website, where you can search for venues close to you that run the scheme.
Fancy swimming instead? The RNLI run a free outdoor swimming lesson scheme, Swim Safe, for 7-14 years olds around the country, while councils often provide free swimming lessons in local pools.
The NHS-run Change 4 Life website is also brimming over with fun fitness ideas for you and the kids.
6. Treasure hunt with a tech twist
Want to get your kids away from their games consoles for a few hours? Take the tech outdoors and try geocaching.
Geocaching is an outdoor treasure hunt for the 21st century, as you use a GPS-enabled device like your mobile to search for the hidden goods, known as geocaches. Make sure you're prepared with some goodies from home, as although you can take the treasure when you find it, you also have to replace it with something of equal or greater value.
Visit the main Geocaching website for more information and find out how to get started. Geocaching also makes the perfect opportunity to explore local landmarks and countryside, so don't forget to take a camera or mobile phone to photograph and capture your adventure.
7. Find retro boredom-busters
For something much more traditional, where the unpredictable British weather isn't a concern, there is one ultimate boredom-busting activity that often gets forgotten – playing board games!
When boredom strikes consider digging out your favourites and spend some quality time with family or friends. Kids always enjoy getting competitive and relish a rare opportunity to beat the adults.
Playing board games are more than just rainy day fun; they can also help with aspects of child development, including communication skills and improving attention spans. That aside, they're also just a great excuse to take some time away from technology.
This blogpost from James can help with beating the boredom blues on a rainy day.
8. Organise a toy swap
If you're a keen moneysaver you may have already heard of – or even been to – a swishing party, where you swap unwanted clothes and accessories with friends. They're a thrifty way of refreshing your wardrobe and having a get together.
For the half term, why not consider setting up a toy swap instead? It's a great time to organise a toy swap, especially as Christmas is fast approaching and children's attentions quickly turn to toys and games. It's also a great opportunity to get rid of toys that older children have grown out of playing with, and to discover new toys that you may not have even thought of before.
Pavan wrote a blog post that can help you get started on your swishing adventure!
Make sure you check out Latest Free Stuff to find some fantastic freebies that can maximise your money and make life a whole lot more fun. Sign up to the newsletter to stay in the know.
Do you have any fun school holiday activity ideas to share? Let us know in the comments!
Save
Save
Save