Keeping kids occupied can be difficult at the best of times. If it's bucketing down outside and you're on a tight budget then it can be tough to find ways to keep boredom at bay.
Occupying kids during the wet weather can mean expensive trips to the cinema or having to buy them new things to distract them from their boredom. This doesn't need to be the case.
We've scoured the internet for ideas that are high on imagination but low on cost and we think kids will love them.
Whether it's turning a blanket into a fort or your living room into a dance floor, you'll find that you can have fun without spending loads of cash.
1. Build a blanket fort
Rainy weather will mean that you'll end up spending a lot of time indoors. With some sheets, a few chairs and a bit of imagination you can build a fortress inside your own home. wikiHow's guide to building a blanket fort can help you get started.
Once the fort has been built your kids (and maybe the adults too) will have a place to hide away during the wet weather. Here's a few suggestions of things to do inside a blanket fort:
Tell scary ghost stories
Read your favourite book
Make up a story set inside your new fort (I believe this is how George R.R. Martin came up with the idea for Game of Thrones)
2. Make chocolate cornflake buns
Baking with kids is a great way to pass the time and you'll end up with some tasty treats at the end too! Chocolate cornflake buns don't require any baking and the ingredients are easy to get hold of too.
If the kids behave themselves you can even give them the privilege of licking the bowl clean (always my favourite part of baking).
For extra thrifty points, pick up the supermarket value brand of cornflakes; they cost much less than  the brand name equivalent and you'll never know the difference when they're drenched in lovely chocolate!
3. Play a round of indoor golf
You don't need Tiger Woods' paypacket to engage in a round of indoor golf. Most of the things you'll need you'll be able to find in your recycling pile. The Craft Train have instructions on how to make your own indoor golf course. Once you've made the holes and the clubs you can enjoy a civilised game of golf in the comfort of your own home.
If you haven't got time to make your own golf clubs out of kitchen roll tubes then I'd suggest using a wooden spoon for the club instead. That way you just need to find a ball (ping pong balls are perfect) and swill out an empty tin can and you'll be ready to play a few holes. FORE!
4. Make a string telephone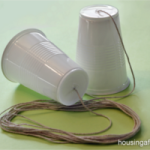 With all the bleep-blooping doodahs kids have access to, they probably won't believe you when you tell them that you can make your own telephone from scratch using a couple of cups and a piece of string.
Once you've managed to get as much as fun as possible from the string telephones you can gather the kids around and tell them the story of how the telephone was invented. So you can sneak a bit of learning into your rainy day fun!
5. Watch a drive in movie
Let your kids make their own car using a cardboard box and then let them watch their favourite film sat in their newly made vehicles. OK, it's not quite a drive-in movie but at least they can pretend!
They'll love their new ride and while they're occupied watching a film it'll give you a chance to put your feet up.
Once the film finishes you can cut some leg holes in the bottom of their car and let them "drive" around the house or if the rain has stopped you could even let them go for a spin in the local park!
6. Have a disco
When the rain is bucketing down outside it can be hard to find ways to help your kids burn off their excess energy. Having an impromptu disco in your living room is a great way to wear them out and uninhibited grown ups can join in too!
Bopping along to some pop hits should be enough to keep them occupied. Add some extra fun by throwing in a game of musical statues or learn the moves to the Macarena. Oh, I wish I hadn't mentioned the Macarena – it brings back some bad memories for me!
7. Play a game of sleeping lions
Another way to grab some peace and quiet is to encourage your kids to play a game of sleeping lions. The first one to move or make a sound loses.
With the right judge it's possible to stretch out a game long enough for you to be able to hear yourself think for a change.
If your kids are competitive enough then they'll not realise that the game is possibly the most boring game ever invented. They'll be too determined to win to notice!
8. Go out puddle jumping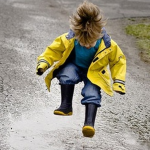 If the rain won't stop and your kids are desperate to go outside, then why not embrace the rain and go puddle jumping? Rather than trying to avoid getting wet you can do the absolute opposite and splash around as much as possible.
Kids love to get messy, so going out in the rain and stomping around will be a good laugh for them and it'll give them chance to get some fresh air. As the saying goes: "Life isn't about waiting for the storm to pass, it's learning to dance in the rain."
PLEASE NOTE:  MoneyAware is NOT responsible for any drenched clothes or splashed parents!
If you've got any other great ideas to occupy the kids on a rainy day then please leave your ideas in the comments section below.