Getting ready to start university is stressful enough, but it's also incredibly stressful when you're the parent of an adult child about to embark into academia. When it comes to your finances, MoneyMagpie.com is one of the most savings-savvy websites around, and Kamal Khuruna's here with some great tips to help you stay top of the class with your finances.
Every year, university gets expensive both for students and the parents who support them. It's particularly tough if you struggle with daily costs already while helping your kids at the same time.
But there are ways you can help your student offspring without paying out. Here are ten to start you off.
1. Save on travel costs
Trains can cost a fortune if your child doesn't drive, so make sure they apply for a 16-25 railcard.
If they travel between university and home this will save lots of money over the next couple of years.
The railcard costs £30 but saves 1/3 off rail journeys for a year (or splash out on a 3-year one for £70).
If they really  don't want to commit to a railcard, Megatrain often have great value tickets for certain journeys.
2. Take advantage of loyalty cards
Find out what the local supermarket is nearest to where your kids will be living. Once you do this, register with their loyalty cards so they can reap the benefits.
Tesco Clubcard holders get mailed vouchers each month which are sure to come in handy. What's more, Nectar cards are good at Sainsburys, some petrol stations and other places. Don't forget Superdrug, Boots, The Works, Starbucks, Costa, and more also offer loyalty cards. The kids might as well use them all and get free stuff with the points.
3. Sign-up for a student card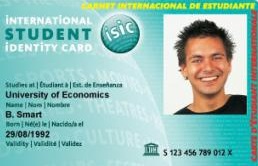 Make sure you set your child up with a student card so that they can save money throughout the year. Register them for an NUS card, get the App and sign up to the mailing list.
Lots of high street brands do fantastic student discounts all year round. For just £12 a year, you can buy your child an NUS Extra card. This gives them savings all over the country at top retailers, restaurants and attractions. There's also an international student card that costs a bit extra but can ensure savings if they travel abroad.
4. Help them budget
Chances are this is the first time your child will be living on their own. This means they'll be taking charge of paying their own rent and buying their own food. Too many students spend their entire student loan during a crazy alcohol-fuelled fresher's week. This leaves them scraping the barrel for the rest of the term.
Teach your child about the importance of keeping a budget and encourage them to transfer small amounts of money to a savings account each month. It will build up over time and will be useful for emergencies whilst making sure they don't overspend.
5. Benefits of bulk buying
There's big money to be saved from group discounts, free extras and simply buying in bulk. Buying perishables in bulk for one can often lead to things going off, however.
Encourage your child to get together with their friends for the weekly food shop. They can all put in money to buy the fruit, veg and dried goods they need for the week and then profit from the great discounts. Also encourage them to purchase big bags of pasta and rice that can last the entire term.
Buying big packs of toilet roll, cleaning products and toiletries to keep them going is a smart move too. Approvedfood.co.uk and Foodbargains.co.uk has smashing offers on dry goods, tinned foods and other basics.
6. Buy them a budget cookbook
Instead of the stereotypical pot noodle and ready meals, teach your kids a few simple, nutritious and cheap meals they can make for themselves. There are lots of student-type recipes online such as the ones on the BBC Good Food site.
A clever alternative is to buy them a budget student cookbook. There are loads around and some even cater to your child's dietary needs like vegetarians, gluten free or lactose intolerance.
7. Help them find work

It's helpful if students can make money in the holidays and even while they are at uni. Go with them to local cafes and bars to see if they can get work as waiters, or in local shops as extra help in the holidays. Also help them look for work at university.
Some places have psychology departments that pay students to take tests. Others offer work to students to contact alumni for donations. There's also other part-time work that students could get for themselves…in fact there are 41 in this article!
8. Show them where the freebies are
There's lot's of ways your kids can grab freebies. Tell them to read our recent article on where to go for the best freebie sites on the web. They need to be careful, however, as there are lots of dodgy websites out there looking to take advantage of freebie hunters.
Another great way to score some free stuff is to look locally. Take their new habitat, for instance. Furniture costs money, especially when you're starting from scratch. Let your child know they can get second hand furniture and other household items for free from Freecycle.org. This could help them furnish their digs for buttons!
Many people offering free stuff will expect you to arrange your own transport, however. See if someone you know who drives can pick up or if the person offering the freebie will drop it off for some petrol money.
9. Split bills
If the students are sharing a house they can save money and make things fairer by using a bill-splitting app like Splittable (available on Android, iOS and as a web app).
This handy app works by providing housemates with a simple and hassle free timeline of household expenditure. This includes lot of things such as rent and utilities, groceries and nights out. The 'all squared meter' calculates in real-time who's in debt and who's in credit. There's also Scred which does something similar and Payfriendz, a mobile app that helps you split bills.
10. Rent out their old room
Finally, consider taking in a lodger in the empty child's bedroom during term time to make some extra money. You could share the income with the kids if you can manage.
You could rent to foreign students by contacting your local English Language school. They tend to stay for no more than six weeks at a time so you could fit them into term times. Take a look at a few more ways to make money renting here.
Your kids can also get a free copy of our eBook 'How to pay off your student debt in double-quick time'. There's also an eBook on '8 Ways to Make £80 an hour' up for grabs.