The lovely Jasmine Birtles from MoneyMagpie.com is back with a follow-up to her colleague Marc Crosby's insightful guide on how to sort the genuine freebie websites from the fakes. Jasmine's very kindly put together a list of her favourite freebie websites to save you time and hassle when on the hunt for free goodies. Take it away, Jasmine!
Becoming a first-class freebie hunter has its advantages; not only can it sometimes help your daily budget, it can also give you early access to products before they hit the shelves.
We all love a good freebie and, thankfully, there are lots of sites on the web happy to provide them. Whilst a lot of them will list many of the same products, it's important to make sure you're going to the best ones so you don't waste time trawling through rubbish.
Some so-called Freebies sites will offer you pretend 'freebies' like 'free' minutes if you spend loads on a new mobile phone contract. Who wants that? So, to make sure you don't waste your time trawling bogus freebie sites, here are our top five that we've tried ourselves:
Latest free stuff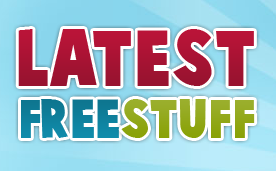 Latest Free Stuff is a friendly, easy to use website with over 600 freebies listed. Each day they add five or six new freebies to the site, so there's always something new.
Most of the freebies on here are samples, so you can get a whole range of products including shampoo, toys, eco friendly products and even chocolate. We love toiletry samples however, as they can often come in useful when you're travelling or staying over somewhere.
They have a useful hints and tips section too offering advice on how best to take advantage of freebie offers (such as creating a second email address) and you can sign up to their app which allows you to see all the latest freebies, even when you're on the move.
Freecycle
Freecycle is one of the best freebie websites around, although it doesn't work in the same way as the usual ones. In this case. the freebies are items that other people like you and I are getting rid of. Most of the stuff there is second hand, although every now and then you will be offered something totally free.
Also, unlike most freebie sites, every day you could potentially get something really substantial like a washing machine, a baby cot, a TV or a sofa rather than just a small sample. Freecycle was originally set up to help keep items out of landfill sites and cut down waste. Now has over five million members across more than 85 countries.
It's free to sign-up to and use, and with such a big membership you could end up furnishing your whole house with it. Great to know if you're a student about to move into your first dwelling!
Freebie Site UK
You may think that trawling the net for freebies is a new concept, but think again. Freebie site UK is one of the original freebie sites and was launched back in 1999.
Similar to Latest Free Stuff, it lists freebies provided by companies rather than members of the public so there's a lot of samples and small free things. Lots of things are up for grabs, from cereal to free days out. The site also lists vouchers and competitions which you can take advantage of.
There's a user ratings system for each freebie which should give you an idea of whether it's worth your time, plus if you want regular freebie updates you can sign up to the site's newsletter.
Gumtree
The Gumtree Freebies section works a lot like Freecycle, with members of the public uploading items they want to get rid of.
There is, as you might expect, a fair bit of rubbish you will have to wade through (although one man's junk is another man's treasure) but there are often good items you can get your hands on. For example we've seen a free trampoline, a vintage typewriter and a dishwasher on there in just one day.
You can make your location as specific as you like, but being too inflexible with travelling to pick the item up  might mean missing out on some of the better items.
Items tend to sell fast so you will have to keep browsing the site regularly. If there's something you're particularly after though, you can even put an advert out yourself explaining what you're looking for. You never know, someone might get in contact.
Freebiers Club UK
Another great place for samples is Freebiers Club UK. A helpful feature is being able to click straight through to the sites offering the sample so you won't need to sign-up to the website to take advantage of the offers.
As freebie sites go it's no-frills, but it's easy to look through the offers and find out if there's anything suitable for you.
[Editor's note: this site may ask for debit or credit card details. Ignore it.]
Hot UK Deals
Hot UK Deals is your internet one stop shop for not only freebies, but also discount vouchers and competitions!
Hot UK Deals has been running since 2004. it's free to register and open to anyone who wants to join in. It also has the latest top 10 hottest deals, fun competitions around the Web and requests for deals on specific products. Definitely worth a look
(Editor's note: one more for luck – be sure to bookmark the freebie thread on the Moneysavingexpert.com forum for added freebie-grabbing goodness. As always, just be sure to double check that any freebies posted on the thread are trustworthy!)
For a genuinely free eBook on how to get free meals, free hotel stays and free drinks, make sure you download the Moneymagpie Mystery Shopping eBook…also completely free!
Save