"The greatest lesson I've learned from working for StepChange is that the sooner you seek help and speak to someone about your debt, the sooner you'll start to feel better about the situation." Helpline advisor

We asked our advisors to write to callers they'd just spoken with, or previous clients that had stuck in their mind for one reason or another.
Asking for help can be one of the hardest things to do. So it's not surprising that they had a few words of encouragement to share with callers old and new.
Our advisors speak to thousands of people each week and are trained to give expert, impartial debt advice. That doesn't mean they're not human though, sometimes a caller's clientstory can hit a nerve or they experience the frustration of knowing someone won't follow up on the advice offered.
What do you say to someone that's reached out to you for help?
To the caller I've just spoken to,
I am writing to you because I think we may share a common bond.
Not long ago, I had significant problems with debt as well. I had been running my own business and I was affected badly by the credit crunch; I later went into some casual work for a friend's company to help pay the bills but was laid off around the same time that my relationship broke down. Loans, credit cards and overdrafts were unpaid and building up penalty charges. I had unopened mail and final demands for unpaid council tax and absolutely no plan as to how I would deal with my debts. In fact, I think I was plain ignoring them with my head buried deep in the sand.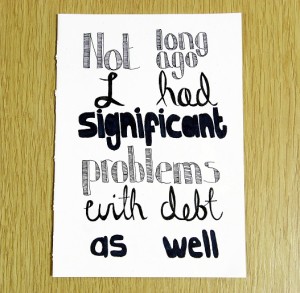 Fast forward a few years and I now work every day as a debt advisor helping people like you, like me. I'm hoping to be finally debt free by the end of 2016. It is so rewarding seeing my debt levels reduce each month and I get so much satisfaction every day knowing that I am helping people in a similar boat.
I wish I could go back in time; I would have spoken to StepChange at the early stages of dealing with debt problems rather than having struggled stubbornly along for so many years!
Until you've experienced debt problems it's really hard to understand the difficulties. And so many of those struggling with debt are not aware of the advice and support offered by StepChange that can really make all the difference.
I wish you the best of luck on your journey out of troublesome debts.
Regards,
Your debt advisor
—-
To the single mother I've just spoken with,
Who'd cut her self-employed business back to the bare bones to allow herself more time to spend with her ter
minally ill daughter.
I can't begin to try and imagine what you were going through when you spoke to me for advice. That must have been difficult enough, without the added pressure from your creditors after your income had been reduced.
You told me it was difficult to make that first step to call us for advice and acknowledge your situation, but you did it.
And if you can be that strong given what you were going through at the time, then others can. Stay strong.
Regards,
Your debt advisor
—-
 To the caller I've not spoken with yet,
It can be one of the hardest first steps to ask for help, however you don't have to worry about being judged or told off for being in debt.
I have spoken to people who have been through so much pain, hurt and upset and even though I know that I can't change what has happened to someone's past I can start to help them move on with their future.
Your future debt advisor
—-
Dear first time caller,
I may be a debt advisor, but I'm a human too!
I know your first phone call in to us can be really hard, but trust me; I have nothing but your best interests at heart (and nothing to sell you!).
If there is one thing I know, it's that there is always a way to deal with debt, always! 
Sometimes that may mean talking over things that are not comfortable, but, I'll give you realistic options, and you will make your decisions.
Talk to me!  I don't bite! Keep me updated, and in return I'll give you the best independent advice and support that I can.
We're working toward the same goal; YOU, debt free, in the quickest and most realistic way possible!
I look forward to speaking with you soon.
Regards,
Your debt advisor
—-
Dear caller,
Addressing the money issues you faced was not easy, but making that call to StepChange Debt Charity may possibly have been the best call you made today.
Yours,
Your debt advisor
—-
Dear caller,
Thank you for making my job worthwhile.
We may do t
his as a career and deal with debt day in, day out, seeing budget after budget. We may answer the phone to hundreds of clients each day but the outcome of this is that we have transformed someone's life.
Never think that you need to face your financial difficulties alone.
We are here to support you every step of the way.
I am able to leave the office every day knowing that someone is one step closer to being debt free and for that, thank you.
All the best,
Your advisor
—-
Dear caller,
It's never going to be easy and it can seem like a long road ahead but knowing there is someone you can seek advice from can make a big difference. The effort you make to start sorting out your debt problems can result in a massive reward of getting a step closer to becoming debt free!
Your advisor
—-
Dear future caller,
It may seem difficult, but I would encourage anyone struggling with debt to call us.
We're not here to judge, only to help. Many clients feel a lot better just by talking to us; it gives them a sense of relief. Some clients haven't told their partners, friends or family about their debt problems. So when they speak to us it is often the first time they are discussing their situation. From this alone, they're often able to get a better night's sleep.
So speak to our friendly team, share your debt problems with us, and we'll give you the advice and support you need.
Yours,
Your debt advisor
—-
Dear caller,
I know it was hard for you to pick up the phone and call us today.
You've been struggling with your finances for a while and hoped things would go away, but the calls are getting hard to ignore now. You sounded worried on the phone, worried that I would judge you or tell you off: but being in debt isn't a crime.
I know that problem debt can happen to anyone, and I'm here to help you move forward, not to judge. You told me you were embarrassed to say what the amounts that you owed were, but I have no doubt that we will find you a solution no matter how much you owe.
If you do nothing else today except phone our Helpline, you can still be proud you've done one brilliant and life-changing thing.
Kind regards,
Your Helpline Advisor.
—-
If you need free, impartial debt advice, get in touch with us today.
Keep checking back for more letters from our team of advisors to clients.