We'll never stop looking for new ideas on how you can make extra cash. From inviting people around to dinner to adding your wisdom to fortune cookies, it seems that new, weird and wonderful ways to make money are popping up all of the time!
This is part four in our 'Weird and Wonderful Ways to Make Money' series. Don't forget to check out parts one, two and three!
(Please note that some of the following money-making tips have been added for entertainment purposes).
Do a spot of plant-sitting
When people go on holiday or a business trip, it's not just children or animals that need to be taken into account. Many indoor plants need watering daily (and, depending on who you speak to, they need to be spoken or sung to in order to thrive).
Think you could sprinkle a bit of water over someone else's plants for cash (belting out your best rendition of Rolling In The Deep is optional)? We thought so! Next time you pass your local coffee shop, put an ad up on the bulletin board offering your plant-minding services. Post offices and convenience stores have bulletin boards too, and there may be a local Facebook group you can put an ad on.
It's no surprise that the thrifty folk over at MoneySavingExpert.com have given plant-sitting a try. Check out their plant or pet sitting thread to find out if it's right for you.
It's worth getting some basic know-how on caring for plants first, as their needs may vary. These helpful videos from The Ficus Wrangler can prevent you from committing mass herbicide.
Gobble up some grub
If you're like me, then eating is a beloved hobby already. What's the harm in getting some cash out of it?
Professional eating competitions take place up and down the country, and often pay out a pretty sum if you win. Keep a beady eye on the competitions page over at Major League Eating if you fancy stuffing your face to success!
(Note: Contestants are sometimes required not to eat anything in the hours before the event. ALWAYS consult your doctor before taking part).
Write a fortune, make a fortune (maybe)
Y'know those pithy, vague predictions for the future that we find upon cracking open a fortune cookie? People get paid to write those. Yes, really.
Fortune cookie manufacturers sometimes hire freelance writers to come up with predictions, sayings or words of wisdom. For what it's worth, I know several people who've read and kept something beautiful or uplifting that they found in a fortune cookie. Your message might be something that someone needs to read at just the right time. Groan-worthy jokes based on terrible puns work too!
If you fancy this line of work, check out this article on Dental Floss to find out more.
Become a bridesmaid for hire
Some people love weddings – the planning, the excitement, the dresses! If you're one of those people who loves watching other people tie the knot, perhaps you'd do well as a professional bridesmaid. You could provide valuable support to a stressed-out bride, and help the maid of honour plan the perfect hen night. 
New York City-based Jen Glantz has made a lucrative career from being a professional bridesmaid, as revealed in her interview with Business Insider.  
Put on a fancy dinner
Are you a dab hand in the kitchen? Can you make room for a few extra dining guests at your table? Eat With might be for you. Having recently launched in the UK, it's a new service that connects people – usually visitors from out of town – with locals who'll invite them around for dinner for a fixed fee. It's a great way to make friends and show off your culinary skills!
Hosts can set their own rates for guests, and they choose the time and dates available to throw a feast. If you're interested, simply fill in the online form with some info about yourself, the kind of food you cook and how many people you can comfortably host.
Get paid to mourn people
No one should have no attendees at their funeral, but this is a sad reality for many people who pass away.
In parts of Asia, it's common practice to hire professional mourners to attend funerals. The controversial practice is picking up steam in the US and now, the UK. If you want to help boost the numbers at a funeral or wake, you could consider signing up to Rent A Mourner.They're an Essex-based firm who provide professional mourners for funerals and wakes all over the UK.
Become a human scarecrow
Fancy getting paid to sit in a nice quiet field and read books all day? If you don't mind scaring off the odd pest, this might be the job for you.
Professional human scarecrow Jamie Fox (not to be confused with famous actor Jamie Foxx) makes approximately £250 a week by protecting a crop of oilseed from hungry partridges. Find out more about this birdbrained vocation on the BBC website. It may be worth talking to your local farm to see if they need some human intervention with their own pests!
Do some odd jobs for cash
According to various health and psychology websites, multitasking isn't always the most effective way to get things done. Constantly skipping between jobs can leave you feeling frustrated. This is due to a stop/start process that our brain has, and it's this process that clashes directly with multitasking.
Psychological studies aside, this busy world often demands that we get a hundred things done in one day. That's why people will sometimes pay you to help them with odd jobs.
My Odd Jobs is where you can find and bid on various things that other people need doing. An Australia-based odd jobs site called Airtasker may expand into the UK eventually, so keep an eye out for it. In the meantime, you can always browse good ol' Gumtree for odd jobs.
Type out transcripts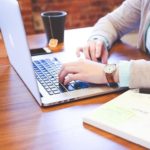 If your touch type skills are top-notch, you could earn some extra coinage by typing out audio notes, or transcribing.
The good news is that you're not always expected to transcribe audio in real-time i.e. during a meeting or over the telephone. Audio is often provided as an MP3 file, meaning you can play it back to make sure you got everything important down. Speedy typing is still important however as quick turnaround is often required.
Interested? Go check out the vacancy sections on websites such as AccuTran Global, GMR Transcription, Quicktate, and Scribie.
Become an ethical hacker
When you think of hackers, it's tempting to see them as sniggering, goblin-faced ne'er-do-wells wearing oversized hoodies and unleashing all kinds of havoc via their keyboard. Some companies recognise the value in hackers however, and hire them to test the robustness of their web security systems.
If you think you've got the skills to help companies improve their online defences, you could become an ethical hacker. Tom's IT Pro recently wrote a comprehensive guide on how to get started, and what qualifications are required.
This article was written both from an informational and entertaining standpoint. These methods may not be suitable for everyone. This article is meant as an exploration of the diverse ways people try to generate an income.
Furthermore, all self-employed income must be declared to HM Revenue and Customs.