Lots of people use credit in their day-to-day lives, and because they're keeping up with the payments, trouble never seems like it's round the corner. But that's the thing about credit – it's not a problem, until one day it is.
James* from Bristol had always stayed on top of his debts. He had a credit card with a small credit limit, and a car loan, which he regularly made payments towards. But things changed quickly when James developed a back problem which meant he was signed off work for months at a time. When his period of sick pay ran out, he started to receive Statutory Sick Pay.
"It wasn't enough to live on and because I was trying to service debt as it was, I didn't have enough to meet those payments, let alone pay rent etc. It spiralled quite quickly – I got quite a large building society loan to consolidate everything but then found myself within a few months having to borrow another lump sum, and by the end I was using payday loans.
"Then I was using different payday loan companies to pay back the payday loan companies I'd already used.
"All this time I was in so much pain that I was on morphine and couldn't leave the house. I had a lot of depression with that as it was, and then with the money worries, letters coming through every day, phone calls on my parents' phone every day…for a period it completely destroyed my life."
Unfortunately, James isn't alone in experiencing mental health problems associated with debt. Nearly half (47%) of our clients told us they'd visited their GP as a result of mental or physical health problems caused by their debts.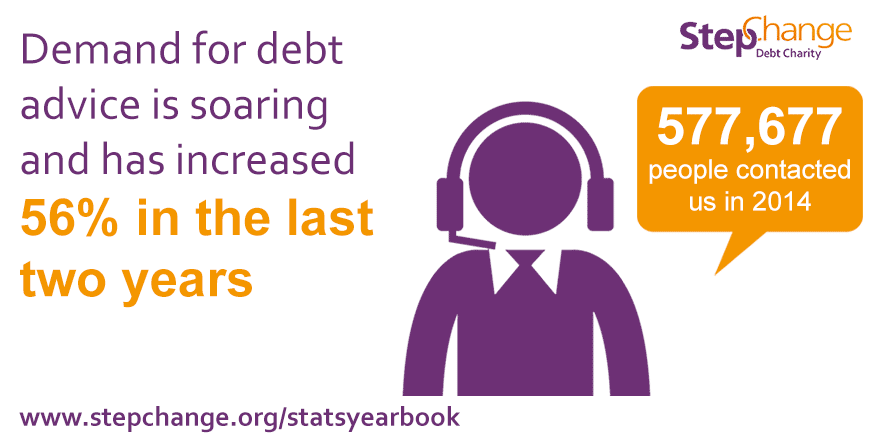 Eventually James underwent major spinal surgery and was able to go back to work in 2014, and got in touch with us for free debt advice. He has since started a debt management plan (DMP) with us, and has found that the phone calls and letters from his creditors have stopped.
"My stress levels are non-existent. I can go about normal life without worrying about all this debt hanging over my head, because I know I'm taking steps to fix it. When I missed a few payments I thought I was the worst person in the world. I was absolutely ashamed. But now I just wish I'd tackled it earlier."
If you know someone who's struggling with money, let them know that we're here to help. Point them in the direction of our 7 Days, 7 Ways email programme, and we'll send them an email each day for a week, helping them take steps to take control of their debts.
For more information about personal debt in the UK, download our Statistics Yearbook 2014.
*Names have been changed
Save
Save