This month we've challenged ourselves to cook the tastiest meal for under a pound per portion. The winner is the person that manages to find the right balance between thrifty ingredients and a tasty meal.
Cooking on a budget can be a challenge and it's easy to fall back on beans on toast or ready meals if you're skint. Reading this challenge might give you some inspiration for tasty alternatives when you're next planning a cheap meal.
This is the latest in a range of challenges the MoneyAware team have undertaken. Last month we tried to have as much fun as possible for five pounds, previous challenges have included: cooking with cheap cuts of meat,  road-testing budgeting apps and DIY Christmas presents.
Rory's chilli con carne and garlic bread (93p per portion)
Chilli con carne is such a quick and easy meal to make that I almost always have a spare portion tucked away in my freezer for those 'cheap and cheerful' days. Once you've made this recipe once you should have plenty of leftover ingredients for the next batch.
My recipe worked out at 93p per person. What a bargain!
The main ingredients you'll need are: 500g beef mince (£1.85), 1kg of long grain rice (40p), 1 large onion (15p), Beef stock cubes (36p), Tomato purée (37p), 1 tin of red kidney beans (23p), Garlic bread x 2 (60p), 1 tin of chopped tomatoes (35p), 2x Garlic cloves (40p), Chilli powder (10p per serving), Cumin (10p per serving).
Dice the onion and slice a red pepper. Cook the onions for 5 minutes and add 2 chopped garlic cloves and the pepper, 1 tsp of chilli powder, 1tsp paprika and 1tsp of cumin and stir it all together for about 5 minutes.
Now add the mince to the mixture and brown it off. Crumble a beef stock cube into 300ml of hot water and pour this into the pan. Add a can of chopped tomatoes and some some salt and pepper for flavour. Finally, add 2tbsp of tomato purée and stir the whole mixture together for 20 minutes.
Drain and rinse 1 can of red kidney beans and stir them into the chilli. Bring the entire mixture to the boil for 10 minutes until everything is cooked. Prepare some rice and garlic bread and you're done!
If you want to add a new twist to this old classic you can add in dark chocolate, red wine or even instant coffee to make it extra tasty, but obviously you'll then start pushing up the price.
Laura's butternut squash risotto (15p per portion)
Risotto sounds quite fancy, but it's actually a really cheap and easy meal to make. I'd bought a butternut squash on offer and didn't really know what to do with it! A quick google brought up this risotto recipe from By Chef Chloe. As it's an American blog, the recipe suggests using canned pumpkin which is a lot harder to come by in the UK, but my trusty butternut squash still did the trick!
To make the risotto, you'll need about a third of a butternut squash (23p), an onion (5p), 2 garlic cloves (3p), a cup of arborio/risotto rice (25p), and 2 stock cubes (6p). The whole thing came to about 62p and was enough for two of us for dinner, plus leftovers for us each to take for lunch the next day! That works out at just over 15p per person per meal.
Fry the onion in some oil for a couple of minutes, then add the garlic and continue to fry for another minute or so until soft. Then add the rice and cook for about thirty seconds, until it starts to go a bit see-through. Add the pumpkin and then begin to add the stock a little at a time, stirring as you go. The trick is to stir the rice regularly as you add the water, so it starts to get a creamy texture. You'll probably need just under 2 pints of stock to cook the rice and the butternut squash.
I'm firmly in the 'cooking's not a science' camp, so I find the best way to check when it's done is to dig in with a fork. Still crunchy? Probably needs longer.
When it's done, you can add whatever you like to the top of it. This is already pretty tasty on its own, but cheese makes everything better in my opinion. I'll definitely be making this again!
James' vegetable stew (38p per portion)
This is an easy, cheap and filling meal to put together. The vegetables cost £1.23 (or 123p, as the label suggests) and a pack of beef stock cubes were 30p. So the whole meal came to £1.53 and I only used three of the ten stock cubes.
Three stock cubes may have been overkill but I worried that such cheap stock cubes probably won't be as flavourful as the more expensive varieties. I have to say that I couldn't really tell the difference and given the price difference it was a good saving.
There's not really a recipe to follow with this meal, just chop up the veg, fry in a bit of oil, chuck in the stock cubes and cover with boiling water. After about fifteen minutes it was cooked but the sauce was thin and it wasn't all that tasty. I meant to leave it to simmer for another ten minutes but twenty five minutes later remembered my stew and turned off the heat. Luckily the extra cooking time improved the flavour and made it a tasty evening meal.
I'm not a vegetarian but it's nice to have a hearty meal that doesn't contain any meat. There was also enough leftovers to feed us the next day too (I whizzed it up with a hand blenders and made it into soup).
If I wasn't keeping the costs down I'd maybe have put some beer or maybe some meatballs in to enhance the flavour, but it was perfectly nice with just vegetables and stock.
Rachel's Cottage pie (83p per portion)
Typically, cottage pie costs around £5-6 to make each time. It can serve up to four people per batch however so it still works out quite cheap per head.
Our local supermarket had a special offer on red potatoes, which are great for making mash. At £1, they were 50p cheaper than our usual potatoes. We opted for standard own brand minced beef at £1.95 instead of the dearer premium stuff, saving at least a quid in the process. Lastly we chose the own brand economy alternative to the fancy sauce we usually get – a bargain at 39p.
The ingredients for this budget cottage pie clocked in at £3.34 – at least half than what we usually pay! But would it still be a mash masterpiece or a beefy borefest?
I boiled the spuds, browned the mince and chucked the sauce on top for the first stage. Then I poured the mince and tomato sauce mix into the bottom on a big dish and topped it off with mashed up potatoes. I scoured the top with a fork to give the cottage pie that lovely crusty finish once it's cooked, doing this always reminds me of playing with playdough as a kid!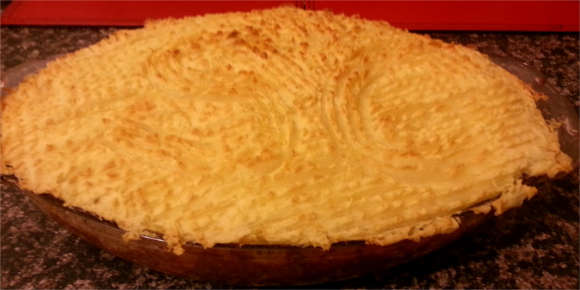 The final stage was to put the dish in the oven on a 170 degree setting. It typically goes in the oven from 40 minutes up to an hour.
Admittedly, the sauce didn't have that same rich tomato taste, but was still good stuff. If we were to do it over, a squirt of ketchup might help bring the whole thing home. The meat itself tasted great, and I genuinely couldn't tell the difference between it and the more premium stuff I usually buy. The potatoes were lovely too. All in all, very pleased!
Jenny's spaghetti bolognaise (89p per portion)
I don't think you can ever go wrong with a bit of spaghetti bolognaise. It's simple to make and super tasty. I'm surprised no one else chose to make it for this challenge. Maybe I just went for the easy option but what can I say? It's a classic.
I picked up 500g mince beef (£2), an onion (11p), garlic (40p), spaghetti (20p), chopped tomatoes (31p), tomato puree (5p) and mushrooms (50p). I made 4 portions so it worked out at about £1 a portion.
To make it, chop and fry the onion in some oil for a bit. Brown the mince and add the chopped tomatoes. Add in the mushrooms and give it all a stir then put in some tomato puree. I'm not one for measurements, so just chuck in what you think is right. Season it with salt and pepper and if you've got some herbs like basil or oregano chuck that in too.
I've heard that you're supposed to leave bolognaise for a few hours to get the best results. Normally I'm too hungry for such delays, so I cook it for about 20-30 minutes. 10 minutes before the bolognaise sauce is cooked to your satisfaction, cook the spaghetti and enjoy!
And the winner is…
Laura's butternut squash risotto was the cheapest meal by a distance at 15p per serving. She confirmed that it was tasty as well as being thrifty but some members of the MoneyAware were unconvinced about this. Whether mushy rice if your thing or not, it's hard to deny that it's a very thrifty meal, so she wins!
The cheapest option that had meat included would be Rachel's cottage pie at 83p per portion. While we've already proven it's possible to cook good meals with cheap cuts of meat it's clear that meat often pushes up the costs when you're cooking on a budget.
Do you have any cheap and cheerful meals that you like to cook? Put a comment below and let us know what your favourite thrifty meal is.
Want to receive articles like this one straight to your inbox every month? Sign up to our monthly newsletter to get our latest updates!