I've rented many houses in my time. From rat-infested terraces, to slug-populated basements and mould-filled houses with a sprinkling of damp.
What can I say? It's been a learning curve.
I finally found a lovely flat, and then suddenly the landlord put the rent up to an unaffordable price. Thanks for that one, pal! So, the hunt is on for a new abode and of course with that comes some costs.
Aside from valuable lessons about what to look for in a rental property, I've picked up some handy tips to help save money when renting too.
From getting your deposit back to up-cycling furniture, there are plenty of ways to hopefully avoid some of the costs associated with renting. Without further ado, I'll share some of my wisdom…
Before renting a property
Haggle over the rent

Paying rent is an unavoidable part of renting. It's pretty much what renting is all about. Although it must be done, that doesn't mean you have to settle for the advertised rental price, and settle you should not. Negotiate with your landlord or letting agency and see if you can get them to bring the price down. Surely that's a small price to pay for having such a lovely tenant as your fine self?
They don't have to agree, but it's worth asking and it's worked for me. Here are some rent haggling tips, for your inner barterer.
If you're on a low income and are struggling with housing costs, you could apply for social housing, which is more affordable if you're not earning very much. There can often be long waiting lists for this and the council will usually decide if you're eligible for a house.
Finding a landlord that accepts housing benefit tenants
Finding a house when you're receiving housing benefit (often referred to as DSS) isn't always easy as not all landlords are willing to accept tenants in this situation. A few ways to encourage a landlord to accept you if you're on housing benefit would be to see if they'll accept a guarantor or extra rent in advance. Of course, this isn't always a viable option.
If you're looking for a home to rent online, keep an eye out for 'DSS accepted' in the property descriptions. You could also use the DSS move website, which features landlords and properties that accept housing benefit tenants, you can search by area too.
Signing fees

I'll be brief here as this topic makes me so angry. In my opinion, signing fees need to be capped or abolished. I've seen some extortionate fees advertised by letting agencies for small things like signing a template letter for a new contract. It's feels like daylight robbery!
The only real way to avoid these fees is to find a private landlord. Of course, if you do this there are other things to consider, such as making sure the landlord is legit.
You could also ask letting agents upfront about all their fees included with renting a property. There are a few good eggs out there that'll charge less than others.
Furniture fiasco

I found a flat recently that was perfect. Why so cheap, I wondered? Ah unfurnished, I discovered. "Not to worry", my friend said. "Furnishing a flat is easier than you think!"
What did she mean? I can't afford the luxury of owning my own furniture…
If you find an unfurnished property, get yourself on your local Facebook selling groups. They usually start with 'Buy/swap/sell' and then include your local town or city. So far, I've got a chair, cabinet and two bedside drawers for £20. Obviously the costs can add up, so it's worth keeping this in mind over choosing a furnished flat. Remember to only hand over your cash once you've got the goods.
Sometimes people give away stuff for free on these groups too. I've even seen people request freebies for a new home, and often people have plenty to offer. Isn't it nice when we all get along?
Don't forget to check out Freecycle or your local Freegle group too. It's worth noting that you might need to hire a van to collect bulky furniture, so you could arrange to do this all on one day to reduce costs.
If you manage to get your hands on some cheap furniture, but it isn't looking too great, why not spruce it up with a lick of paint? Pinterest has lots of upcycling furniture ideas for this sort of thing, to suit all budgets. It's worth searching on Google for second-hand paint shops in your area too; it'll be much cheaper than buying it new.
During the tenancy

Own your inventory

You've been ripped off by signing fees, put a signature on the contract and have the keys. Hooray – it's moving day! First things first, sort out the inventory.
You need to get photos of your new home. Scratched floor? Snap it. Carpet scuffed? Snap it. It's annoying but you've got to be eagle-eyed here. Get some general photos of the rooms too, the state of the carpets and how well they've been cleaned for your arrival.
You'll need to document this on the inventory too, as well as making sure everything listed is in the property. Note any absent items too.
The photo evidence is there to help you get your deposit back at the end of tenancy, just in case the letting agency tries to pull a fast one. Don't forget to also take photos when you move out, so you're covered if your landlord tries to claim additional damage after you leave. It's happened to me a few times now but don't worry, I had my photo evidence.
A particular stingy note here: make sure you list any missing lightbulbs. My current letting agency is prepared to charge me for a contractor to replace broken bulbs when I leave, even though I caught one of the guys from the letting agency changing them himself. But that's none of my business…
Bills, bills, bills
Check your contract to find out what bills you'll be responsible for. Some lettings include certain bills in the rent, so make sure you know what's included.
You'll usually be responsible for:
        Council tax
        Gas and electric (don't forget to get meter readings on moving day)
        Water
        Internet (if applicable)
        TV license (if applicable)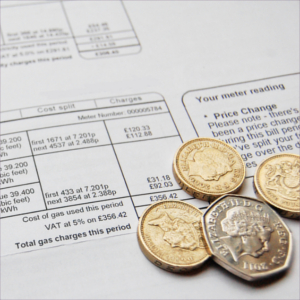 If you're moving into a house share it can be tempting to set up a joint account with other tenants to pay for bills. If you do this, you could become responsible for any debts related to that account, even if you had nothing to do with them.
There are other risks to having a joint account with your housemates.
For example, if your housemate has a bad credit rating, it could impact yours too. There's also a risk of someone withdrawing money from the account, without anyone else knowing.
Another important thing to find out is the kind of tenancy you have. If you have a joint tenancy you could be liable for another housemate's rent if they don't pay. Not cool.
When it's time to move out…

Deposit wars
When a tenancy is coming to an end there's usually one thing on my mind. I need that deposit back! Obviously you've got your photo evidence ready to go if needs be. What about the rest though?
Don't let your letting agency/landlord rip you off. I've had one landlord demand we pay for a new sofa because of a tiny tear and a whole new alarm system for one that wasn't broken. We didn't put up with his shenanigans and neither should you!
You don't have to accept such wild accusations about your treatment of the property. You can appeal against deposit reductions if you think they're unfair. That's exactly what we did, and we won. Sorry landlord, no new car for you this year. You can find out more about reasonable deposit deductions.
It's a fair expectation that you should leave the property in good condition though. Make sure you give it a good clean, empty the bins and remove any of your items before you hand the keys over. Otherwise you could be charged for a professional cleaner and as far as I know, end of tenancy cleaning isn't cheap!
Pay particular attention to the skirting boards (always dusty) and oven, bathroom and the fridge as letting agents tend to be super-attentive to those. I always forget to clean the washing machine too, maybe it's because it's already a cleaning device. Even the detergent drawer needs to be clean apparently.
So there you have it, some of my tips to help you save money while renting. If only I'd known these when I was 18 eh? Oh well, onwards and upwards.